Roll on 2023 – Happy New Year!
Home » Roll on 2023 – Happy New Year!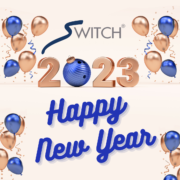 With very best wishes to all our friends
We hope you're looking forward to what the new year will bring as much as we are!
2022 has been a year of such positive energy we feel excited about what the future holds in store. It has been fantastic to get out and about again, meeting up with our clients, sector representatives, fellow enthusiasts and all our friends in the bowling world.
We feel confident 2023 will be even better!
Switch® is going big in the United States
Already working with several bowling chain operators and franchisees, we are delighted to announce our increasing presence in North America. Switch® USA reinvents traditional bowling with European style and unique design.
This year, at our international headquarters
To meet demand for new installations across Europe, the Middle East and Asia, and to offer continuing support to operating venues, our team in Izmir, Turkey, continues to expand to provide the best service for our clients.
Earlier in the year, we welcomed Mr Oğuz Tüzün to the position of President of Switch® International Bowling. At the same time, we also welcomed Mr Tolga Yücetürk to the role of Global Business Development Manager. In logistics and customer communication, our team has also expanded to meet growing demand.
Our aim is to offer clients a smooth and efficient journey from concept to completion.
New products 2022-2023
The new Switch® Shield string pinsetters received resounding accolades when unveiled at trade fairs this autumn. We are sure both operators and players will appreciate their sleek good looks and cost-effective efficiency. Switch® Shield teams perfectly with our new range of Switch® Style furniture.
Recent focus has been on upgrades to our software, increasing technological functionality to assist operators run venues efficiently, and to enhance customer experience.
In development, we are excited to be working on fun and fast Duckpin Bowling. We anticipate high demand as it is a great way to incorporate bowling into smaller spaces. Keep an eye on our website news for more information.
Roll on 2023
2022 was definitely a stimulating year for Switch®. We very much hope your year has been equally productive and satisfying. Now we're looking forward to 2023.
Throughout the year, in keeping with our international vision, we will be attending a busy schedule of shows and trade-fairs around the world, starting with Atrax İstanbul in January. In fact, we're planning an exceptional representation to showcase Switch® services and products. We think you'll be impressed.
As Switch® already enjoys a significant presence in the Middle East, we aim to support the further growth and development of the family entertainment sector. Sector growth in the region is inspirational and we look forward to discussing possibilities with prospective clients and strategic partners at IAAPA Middle East Trade Summit 2023 in March, and Saudi Entertainment & Amusement (SEA) Expo in May.
We look forward to hearing your news
Throughout the year, teams based in our Texas and Izmir headquarters are ready to assist you. We look forward to hearing from you – there's nothing we enjoy more than talking about bowling and our products!
Remember, whatever your bowling needs, we're here to help.
With our very best wishes to you for the holiday season and for 2023,
The Switch® International Bowling management team and staff
If you can imagine it,
Switch®
will bring it to life.