Switch® team heads for Orlando IAAPA EXPO 2022
The Switch® team is heading to the Orlando IAAPA Expo 2022. Taking place from November 15-18, we're excited to be showcasing our exciting new products alongside our evergreen favourites.
Please come along and visit us at booth #5602
Orlando IAAPA Expo 2022 is held in the South & North Halls at the Orange County Convention Center (OCCC) 9400 Universal Boulevard Orlando, FL 32819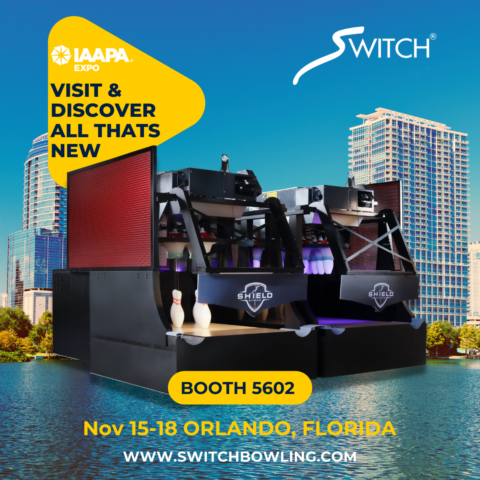 Meet the team
Because we love bowling, we are very happy to meet and share our enthusiasm for our game and the Switch® products that help to make it even more fun.
Mr Oğuz Tüzün, President of Switch® International Bowling, is very much looking forward to attending the Orlando IAAPA Expo 2022.
He says: "I see the IAAPA Expo as a great opportunity for us to introduce potential clients to Switch®. Our team looks forward to seeing how trends are developing, admiring new products and innovations, as we all work together to produce great experiences for families, players and thrill-seekers. As I enjoy meeting people, I hope you'll drop by our stand to have a chat about your own projects and planned investments, to see how Switch® can make your bowling dreams a reality. I see this as a great opportunity to share ideas as we work towards creating entertainment venues that exceed expectations."
Other Switch® representatives in Orlando are:
Mr Ahmet Solmaz, Chief Executive Officer
Ms Cynthia Winterhalter, Chief Operating Officer
Mr Tolga
Our distributors
We hope visitors to our booth will also have the chance to meet:
Mr Brice Wohlgemuth, French distributor and scoring expert
Mr Terry Fawdington, UK & Ireland distributor and VP of International Sales
The global network of Switch® distributors is key to our international success.
Admire our stylish product range
The Switch® team is especially delighted to be showcasing the latest Switch® Shield String Pinsetter which received such accolades at the London IAAPA Expo earlier in the year. We believe it is a gamechanger for centre operators. This pinsetter reduces operating costs, increases lane time, and looks truly fantastic.
If you are a bowling centre operator, this pinsetter is exactly what you've always wanted – it reduces operating costs, increases lane time, and looks truly fantastic.
Combining our signature style with reliable functionality, our product design team has worked hard to create this eye-catching workhorse. Moreover, its sleek exterior will complement any venue and matches well with our new range of Style furniture.
We're here to help
Whatever your interest in the bowling sector, we look forward to meeting you at the Orlando IAAPA Expo 2022. Please come over and have a chat.